Teach at Kairali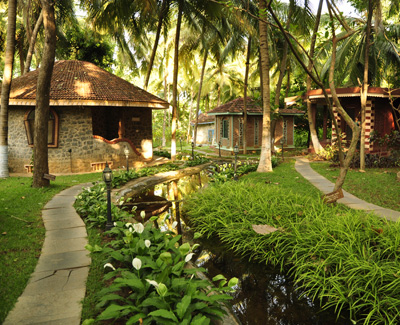 Kairali Yoga invites Yoga Teachers, holistic healers and other retreat organizers to discuss leading a retreat in partnership with us, and offer their students an authentic experience of Yoga and Ayurveda. There is no better place for a Yoga Teacher to craft their profile as an authority in the field of holistic healing than our Ayurvedic Healing Village in Kerala, India.
Time spent together at the Ayurvedic Healing Village will allow you to bond deeply with your students and undertake in-depth holistic development, as well as profoundly enhancing your reputation as an authority in the field of Yoga.
Yoga Teachers are encouraged to bring their clients to enjoy the benefits of our exotic healing destination, while spending valuable time together working as a group. Organizers have our full support in creating life-changing retreat experiences combined with authentic Ayurvedic Treatments.
Kairali Yoga's Retreat Partnerships
Kairali Yoga is the retreat organization team for The Ayurvedic Healing Village, a healing community recognized by the National Geographic Traveler magazine as one of the 'Top Ten Wellness Meccas' in Asia. It is our privilege to host a wide selection of retreat programs organized by our specially invited yoga teachers and holistic practitioners.
We are assembling an ongoing retreats schedule that pairs the very best Yoga tuition with our award-winning Ayurvedic treatments, in an effort to bring the Ancient Twins of Yoga and Ayurveda close together again.
Support for Guest Teachers
Your contribution to Kairali's Ayurvedic healing community is of the highest value to our clients. We offer Guest Teachers all the support they need to facilitate the best possible retreat experience for our guests. With a wide range of education programs, Ayurveda packages and modern facilities available, organizers can expect ongoing support and destination management from Kairali Yoga, and guests are sure to find a retreat program perfectly suited to their needs.