Yoga & Ayurveda Retreat - 19th July to 22nd July 2018, (3 Nights / 4 Days)
Join us for our sixth Yoga & Ayurveda retreat at the Kairali Ayurvedic Healing Village in Palakkad, Kerala.
This retreat is the perfect opportunity to dive deeper into the practice of yoga and immerse yourself in Ayurvedic treatments. A four day program, in which you get to completely disconnect from your daily lives, technology and traffic. We will be spending our time in the stunning luscious nature of Kerala, taking part in yoga, ayurvedic massages, meditation, along with 3 delicious ayurvedic vegetarian meals.
Included in the Retreat
6 Yoga classes & Meditation sessions
6 Ayurvedic Treatments
Consultations with the Ayurvedic Doctors
Vegetarian Ayurvedic buffet (3 meals per day)
Accomodation in cottages
Introduction to Ayurveda talk
Ayurvedic Cooking Workshop
Mantra Chanting
Visit to nearby Ashram
The Resort
The Ayurvedic Healing Village is set amid 50 acres of lush greenery in Palakkad, Kerala. It has 30 exclusive villas, each conforming to "Vastu Shastra" architecture - the Indian version of feng shui. The resort is surrounded by herbs and trees with immense curative and restorative powers, making it the ultimate peaceful abode to relax in! There is a big swimming pool, tennis court, library and gym facilities.
The Spa offers the best of Ayurvedic treatments and medicinal massages, with well trained massage therapists and doctors. They offer a variety of treatments, including abhyangam, pizhichil, shirodhara, panchakarma, etc.

The Daily Schedule
07:00 am to 08:00 am – Hatha Yoga
08:00 am to 09:00 am – Breakfast
09:00 am to 1:00 pm – Ayurvedic Treatment (1 hour slot p/p)
1.00 pm to 2.00 pm - Lunch
2:00 pm to 5:00 pm – Ayurvedic Treatment (1 hour slot p/p)
5:30 pm to 6:45 pm – Yin Yoga / Restorative Yoga
6:45-7:15pm - Meditation
7:30 pm to 8:30 pm – Dinner
*times are subject to change upon arrival*

Rates | 19th July to 22nd July 2018, (3 Nights / 4 Days)
Shared Accommodation
Private Accommodation
Deluxe Villa
AED 2190 | INR 39,995
AED 2485 | INR 45,385
Royal Villa
AED 2585 | INR 47,200
AED 2950 | INR 53,900
rates are per person
Not Included in the Retreat
Flights and local transportation
---
Optional Extras:

Ayurvedic treatment courses for specific health conditions
Palmistry consultations
Vedic Astrology readings
Spiritual ceremonies (pujas)

Date: 19th July to 22nd July 2018 (3 Nights / 4 Days)

Location: Ayurvedic Healing Village, Palakkad, Kerala
Getting There
Nearest Airports are Kochi (Kerala) and Coimbatore (Tamil Nadu)
From both airports it takes around 1.5 - 2 hours driving
Dates
Arrival on July 19, 2018 at 12pm
Departure on July 22, 2017 at 11am
Booking Procedure
25% non-refundable deposit to be paid at the time of booking
75% to be paid by April 30th
bookings made thereafter, 100% payment
Cancellation Policy
8 weeks prior - Full refund (minus deposit)
6 weeks prior- 50% refund
thereafter- no refund
Teacher
---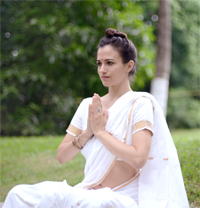 Lakshya is a certified Yoga teacher, having more than 12 years of experience and practice in Hatha Yoga. She has studied yoga extensively in India, and has also completed a 3-year course in Vedanta, Sanskrit, and Vedic Chanting under the tutelage of her Guru, Swami Dayananda Saraswati, in Coimbatore, India.
Lakshya's classes are dynamic in nature, focusing on alignment, breath-and-movement synchronisation, and finding relaxation within the poses. She encourages students to explore their own bodies and capacities, and connect with their inner peace. For Lakshya, yoga is more than just a practice- it is a way of life. For more information, please check www.lakshyayoga.com
Love, Om.
Lakshya [Elouise Erlings]

For more information or to sign up please drop a message in the Enquire Now section
---
Please contact our helpful Customer care.
Email: retreats@kairaliyoga.com
Mob: +91- 9555156156