Ayurvedic Healing Village, Kerala
The Ayurvedic Healing Village is a Yoga Retreat Center set deep in the heart of Ayurveda's birthplace, Kairali. Located among the sweet scented forests of Palakkad, just a short distance away from the world's biggest mountain pass, our thirty guest villas represent a masterpiece of design perfectly blended with the natural environment. An inspiring jungle health spa ideal for in-depth holistic training, the Ayurvedic Healing Village forms the center of Kariali Yoga's retreat schedule and provides an immersive experience of Yoga and Ayurveda unlike any other in India.
Luxury Villas Based on Ancient Vedic Knowledge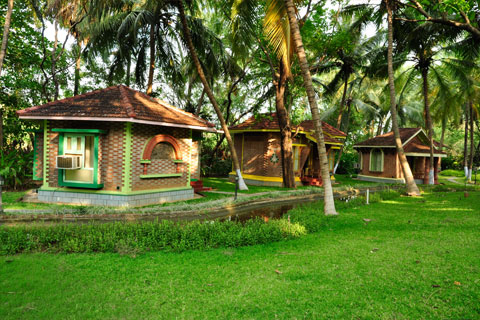 The Ayurvedic Healing Village stays true in every respect to its Vedic heritage. With thirty guest villas spread over a sprawling jungle landscape, its architecture conforms to the ancient edicts of Vaastu Shastra (the Indian version of feng shui). Guests are assigned villas according to their Zodiac signs, and enjoy an environment incorporating the symbols and elements recommended by the world's oldest scripture: including Red Oxide flooring, a rare Valambari Conch shell, and a gentle stream flowing around every villa. Kairali's Ayurvedic health spa offers an environment in which guests can benefit from an immersive experience in the ancient culture of Yoga and Ayurveda. See the Ayurvedic Healing Village's facilities page for more on Vedic astrology, Palmistry and other ancient practices with which to complement your retreat experience.
An immersive experience of Yoga and Ayurveda in Kerala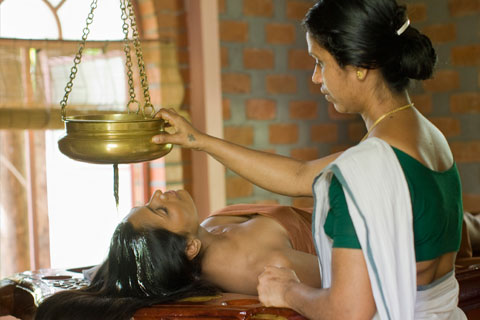 Yoga retreats at the Ayurvedic Healing Village provide a transforming experience of the ancient Indian healing arts, where Yoga and Ayurveda stand side by side as they did in ancient times. Guests are invited to take advantage of Kairali's Ayurvedic Treatments, using organic herbal remedies grown on our fifty acres of organic farmland surrounding the retreat. Our highly qualified Ayurvedic doctors are at hand to provide individualized health consultations and ongoing guidance throughout your retreat experience. Nothing pleases us more than seeing our guests ease their stress and chronic health problems after just a few weeks guidance from our world-class Ayurvedic team. For more information on our detoxifying and restorative retreat packages please see our Kairali Retreats and Ayurvedic Treatments pages.
An Internationally Recognized Ayurvedic Center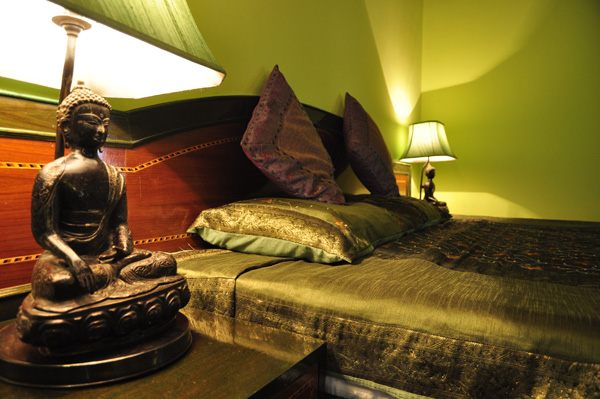 Established in 1999, The Ayurvedic Healing Village is the pride of Kairali Ayurvedic Group, and has accumulated a long list of awards and accolades on its way to becoming an internationally recognized retreat centre. Rated one of the 'Top Ten Wellness Meccas in Asia', and among the 'Top Fifty Wellness Meccas in the World' by National Geographic Traveler magazine, it is proven beyond doubt to be one of the world's leading Ayurvedic health centers. A stay at the Ayurvedic Healing Village will leave guests wondering whether they have drifted far into India's distant past, or are experiencing the height of modern luxury, as recognized by the World Luxury Spa Award's 'Best Destination Spa 2012'.