Ayurvedic Treatments
Kairali Yoga facilitates a wide selection of Ayurvedic Treatment courses at The Ayurvedic Healing Village in Kerala. Our detoxifying and restorative treatment programs cleanse the body with locally grown organic herbs provided by our highly trained Ayurvedic doctors and therapists.
Kairali Ayurvedic Group prides itself on staying true to the instructions of ancient Vedic health knowledge, while maintaining a research and development division that uses the best of modern technology, quality control and sustainable manufacture.
Individual Health Care and Tailored Ayurveda Treatments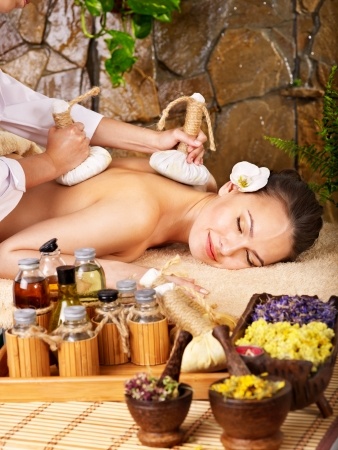 True to the theory of authentic Ayurveda, Kairali Yoga acknowledges that there are as many Treatment Programs as there are individuals. Ayurvedic Treatment courses always begin with a 'Prakriti Analysis' – an initial consultation with one of our world-class Ayurvedic doctors. This is a consultation unlike any offered by modern medicine; a compassionate process that recognizes each individual as unique, conducting a careful physical exam and interview in order to determine their Ayurvedic dosha (body type).
With knowledge of their patient's Ayurvedic dosha type, our specialists are able to identify imbalances in their mental and physical constitution. This allows them to tailor a course of treatment precisely to that individual, and provide specific diet, lifestyle and wellbeing objectives with which to maintain long-term wellbeing.
Ayurvedic Panchakarma
Panchakarma is the essential Ayurvedic detox and the biggest attraction of Indian health tourism; a practice that has remained unchanged for thousands of years. The Panchakarma courses offered at The Ayurvedic Healing Village are second to none in their peaceful surroundings and standards of personal care. When paired with a daily schedule of gentle Restorative Yoga, Ayurvedic Panchakarma represents an ideal choice for those embarking on a newly health-focused lifestyle.
Medicated oils are used in combination with purgation, enemas, steam therapy and Ayurvedic massage to remove toxins and restore balance in the doshas. The process is intense and guests should expect a transformative physical and emotional cleanse. They will benefit from a quiet atmosphere, special diet and gentle routine of yoga and meditation, which form the theme of our Yoga and Ayurveda retreat programs.
Ayurvedic Cleanse
Kairali Yoga provides personalized treatments and detoxification programs oriented around specific health aims.
The Ayurvedic Healing Village offers:
Yoga and Meditation Courses
Ayurvedic Panchakarma
Detox and Rejuvenation Treatment
Weight-loss Retreats
De-addiction and Rehabilitation from drugs, alcohol and tobacco
Ayurvedic Cure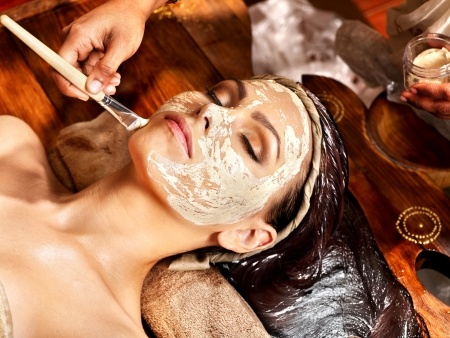 Kairali Yoga provides a selection of restorative programs at their Green Leaf Certified1 Ayurvedic Hospital, including treatments for:
Arthritis and Rheumatism, Diabetes, Sinusitis and Migraine, Anxiety and Stress-Relief, Hypertension and High Blood Pressure, Chronic Back Pain and Sciatica, Spondylitis and Slipped Disc, Beauty and Eye Care, Skin Diseases, Respiratory Diseases, Post Pregnancy Care.
Newcomers to the benefits of Ayurvedic Treatments should download our brochure, 'The Healing Secrets of Kairali' to learn more about the massages and health practices involved.
Kairali's Ayurvedic Treatment Packages
Aurveda is a subtle and delicate balancing process, where no two treatments are ever alike. Guests should be aware, therefore, that our Ayurvedic Treatment Packages list only an estimate of the treatments provided within each package choice.
Some guests will benefit from a routine of frequent massage, while some will need to take the detoxification process more slowly. For this reason, your stay at Kairali's The Ayurvedic Healing Village will begin with an in-depth diagnostic consultation. This initial Prakriti analysis with our expert doctors allows them to prescribe the sequence of treatments most effective for you, which will then be monitored and adjusted throughout your stay.
Ayurveda Packages
Kairali's Special Holistic Panchakarma Treatment[2]
This package includes Abhyangam, Elakizhi, Kadikizhi, Vasti, Pizhchil, Navarakizhi, Sirodhara, Nasyam and Facial Therapy .
Kairali's Special Holistic Treatment for Rejuvenation and Detoxification[2]
This Package includes Abhyangam, Sirodhara and Elakizhi Therapies.
Kairali's Special Weight Loss Program[2]
This Package includes Abhyangam, Elakizhi, Kadikizhi, Vasti and Udwarthanam Therapies.
Ayurvedic Therapies
Abhyangam
The classic Ayurveda oil massage, involving large amounts of warm, medicated herbal oil. The patient lies on a Droni (wooden massage bed) and is massaged simultaneously by two masseurs. Every part of the body from the head to the toes is massaged over the course of an hour, after which the patient should take a steam bath and shower to complete the purification process.
Benefits
Ayurvedic oil massage is a highly effective method of removing accumulated toxins from the body and aiding in the process of cell renewal. Abhyangam has a deeply cleansing effect on the skin, while nourishing it with large volumes of naturally proteinous oils, such as sesame, ghee and coconut oil. The benefits to the health of the skin and circulation are considerable, especially when followed by a pore-cleansing steam bath. Recommended in the Ayurvedic texts as part of a regular health practice, Abhyangam is usually the first therapy on a course of Panchakarma. In traditional Ayurveda, Abhyangam is a technique of managing Vata, the dosha that affects the others within the body.
Elakizhi
The patient is massaged with herbal balls containing herbal leaves and Ayurvedic powders wrapped in muslin cloth. The poultice is warmed in medicated oil and used to massage the entire body, neck, shoulders, and back.
Benefits
As well as being superbly relaxing, Elakizhi is an excellent treatment for back ache, arthritis, stiff joints and aching muscles. Like Abhyangam, it helps to promote circulation and has a toning effect on the skin.
Kadikizhi
A similar massage technique to Elakizhi, Kadikizhi uses linen balls stuffed with powdered pulses, herbs and seeds
Benefits
Kadikizhi eases the joints and soothes aches and pains all over the body. The method is extremely useful in treating obesity-related issues and aiding weight-loss.
Vasti
Vasti is the practice of oil enema; a central practice of Ayurvedic detoxification, with over 100 methods listed in the ancient texts. Medicinal oils are specially selected for your Ayurvedic body type, gently inserted into the rectum and allowed to absorb.
Benefits
A far gentler method than colonic irrigation, vasti cleanses the colon and bowel of excess bacteria, parasites and other blockages, solving digestive problems and establishing balance throughout the body. Oil enemas are exceedingly important for treating Vata-related conditions, and many claim that they are the most important treatment in a course of Panchakarma.
Sirovasti
Is the practice of applying warm medicated oil over the entire head. A leather cap is placed on the head to maintain the temperature, and the oil is held on the head for a prescribed period.
Benefits
Sirovasti is an effective treatment for all issues affecting the head and scalp, including migraine, sinusitis, cranial nerves, deafness, eye problems, facial paralysis and emotional problems.
Pizhchil
Pizhchil combines oil massage with a special heat treatment, using 20 litres of medicated Ayurvedic oil. Warm oil is poured continuously over the body while two masseurs conduct a simultaneous massage, using their hands and cotton cloth.
Benefits
Pizhchil is an indulgent and rejuvenating treatment that nourishes the skin, soothes the muscles and retunes the nervous system. It is a particularly effective treatment for rheumatism and arthritis, and helps to restore mental balance in cases of insomnia and depression. Pizhchil is a highly recommended treatment for those with a high level of Vata dosha.
Navarakizhi
Navarakizhi massage therapy uses linen poultices filled with Nevara rice, cooked in cow's milk and a special herbal mixture. With each application of the ball dipped in medicated oil, the body perspires and is wiped down.
Benefits
Like the other forms of Ayurvedic poultice massage, Navarakizhi is an effective treatment for rheumatism and joint pain. It has also proven beneficial in cases of high cholesterol and blood pressure. The sweating process deeply cleanses the skin and adds lustre to its quality.
Sirodhara
One of the best-known Ayurvedic treatments, Sirodhara is the process of pouring medicinal oil and buttermilk onto the head at the site of the 'third eye' chakra. The therapist maintains a rhythmic pattern while pouring, allowing the Ayurvedic oil to flow continuously over the forehead.
Benefits
This relaxing and meditative experience also provides an effective therapy for diseases connected with the head, neck and nervous system. Sirodhara is a leading choice for headaches, migraines, memory loss, sinusitis, hair loss and skin disease, as well as stress and depression.
Nasyam
Beginning with an upper body massage and the application of heat to the body, an exact dose of the prescribed Ayurvedic medicine is poured into the nostrils, as the patient inhales. The nose, neck, shoulders, palms and feet are rubbed throughout the process.
Benefits
Nasyam is the leading Ayurvedic treatment for sinusitis, migraine, chronic cold, stress and anxiety. It is the perfect Ayurevdic treatment for those going through a de-addiction or cleansing process as it cleanses the facial cavities, increasing oxygenation and brain function.
Facial Therapy (Mukhabhyangam)
Mukhabhyangam Facial Therapy uses a combination of exfoliation, massage and face refloxology to nourish and revitalize your complexion. A variety of herbal oils, exotic herbs and natural mud are used in sequence to remove dead skin cells, before strengthening and conditioning the layers underneath. Medicated oils are then applied, to tone and moisturize the skin.
Benefits
Ayurvedic Face Therapy is the leading holistic method of smoothing away wrinkles and restoring a youthful glow. Specially selected therapeutic oils work to release toxins and rejuvenate the facial tissue. The reflexology-style massage uses Ayurvedic Marma (acupressure) points to initiate deep relaxation, making it the perfect antidote to stress.
Udwarthanam
Udwarthanam is an Ayurvedic body scrub treatment using a herbal paste called lepam, made from dry grains, milk and medicated oils. Lepam is massaged into the skin, and followed by a warm, aromatic bath to wash it away.
Benefits
A procedure recommended for medicinal, relaxation and cosmetic purposes; Udwarthanam has the obvious benefit of exfoliating and softening the skin, giving it a youthful glow. It is highly recommended for certain skin diseases, and also improves circulation and joint pain. Those on a weight-loss program will gain special benefit from this treatment, which is a successful method of removing fat and cellulite.
1The highest level of Ayurvedic certification, awarded by the Government of Kerala.
2Numbers of Treatments and the treatments itself may very as per Doctors recommendations & body type.