Taryn Elise Herselman
Yoga Therapist and Studio Director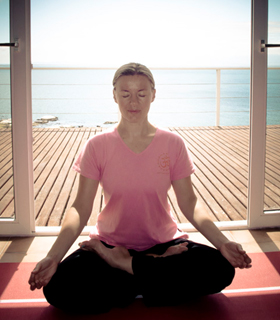 The Director of Shakti Yoga Therapy Centre in Johannesburg, Taryn Herselman is a Yoga Teacher and Therapist with over 8 years experience. Taryn blends her wide international influences with extensive training in India, to provide a compassionate and therapeutic approach to Yoga. Also holding a BA (Hons) in Psychology, she uses her extensive knowledge of yogic techniques to support emotional health and stress-related conditions, making use of the many physiological and psychological benefits of Yin and Restorative Yoga. As a teacher, she creates an energising and inclusive atmosphere that makes her a favorite for retreats and workshops in South Africa and India.
Taryn graduated in 2005 at Yoga Circle, a one year Teacher Training course in South Africa, before undertaking in-depth study in India. A student of renowned Yoga Therapist Yogacharya Vishwas Vasant Mandlik, she holds qualifications in Yoga Teaching, Advanced Yoga and Yoga Therapy from the Yoga Vidya Gurukul, accredited by the University of Pune, India.
For information on 'Heal and Harmonize': Taryn's 10-day Ayurveda and Restorative Yoga Retreat, click here.
See the video testimonials by our clients by clicking here

---
Please contact our helpful Customer care.
Email: retreats@kairaliyoga.com
Mob: +91- 9555156156