Karma Being Retreat - Feb 1st - 9th 2015
Ayurveda & Yoga Retreat, Kerala, India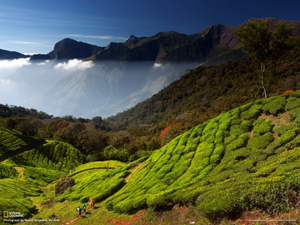 Embark on a once in a life time trip to India's most beautiful southern state Kerala. Geographically blessed with luscious plantations, picture-perfect beaches & stunning emerald green backwaters, there's no wonder it's among "the paradises of the world" and "50 places of a lifetime according to National Geographic, Traveller Magazine.
A far cry from Inida's hustle and bustle, our retreat takes a slower pace in Palakkad distric nestled at the foothills of the giant and mystical Western Ghats at The Ayurvedic Healing Village. Named 'Best Luxury Destination Spa, 2012' by World Luxury Spa Awards, your home away from home has all the modern luxuries such as a swimming pool, tennis court and cyber centre. All this surrounded by acres of organic Ayurvedic farmland and sprawling jungle.
On retreat you will have a consultation with an Ayurvedic doctor who will prescribe various herbs and treatments specifically for your needs. You will indulge in two daily ayurvedic treatments with a steam bath complimented by daily yoga and meditation. You will also receive a personal lifestyle and fitness evaluation and learn about the ancient Indian Science of healing through lectures on Ayurveda and Ayurvedic cooking.
You will stay in an air-conditioned deluxe villa assigned according to your Zodiac sign. Each villa has a gentle stream flowing around it and complies with "Vastu Shastra" (similar to Feng Shui) based on living in harmony with nature and the universal flow of energy.
Ayurvedic Nutrition is a big focus at the Ayurvedic Healing Village and each meal is an exquisite feast of vegetarian cuisine.
KARMA BEING RETREAT SCHEDULE 1st - 9th Februay 2015
Sun 1st
Mon 2nd
Tue 3rd
Wed 4th
Thurs 5th
Fri 6th
Sat 7th
Sun 8th
Mon 9th
7am - 8am
Kairali Yoga
Yoga with Jane
Yogalates with Suzie
Yoga with Kerry
Yoga with Jane
Kairali Yoga
Yogalates/ Qigong with Suzie
Partner Yoga with Jane
8am – 9am
BREAKFAST
9am - 1pm
Doctors + Lifestyle & Fitness Consultations (for early arrivals)
12 Noon Check In
1st TREATMENTS OF THE DAY 9am - 1pm (average treatment time = 30mins)
&
One on one Sessions with Jane, Kerry or Suzie (30mins)
9:30 – 10am Closing Circle
1pm – 2:30pm
LUNCH
Noon Check out
2pm - 3pm
2pm – 7:30pm Doctors + Lifestyle & Fitness Consultations (max 30mins) * Treatments begin today for those arriving early *
Ayurveda Lecture
Ayurveda Lecture
Ayurvedic Cooking Lecture
3pm - 6pm
2nd TREATMENTS OF THE DAY 2pm-7:30pm (average treatment time = 30mins)
6pm – 6:30pm
Karma Being Opening Circle
Yoga Lecture
Meditation Lecture
6:30pm – 7:30pm
MEDITATION
(Types of meditation: Sohum, Om Chanting, kapalbahti, Yoga Nidra and Trataka)
7:30pm – 8:30pm
DINNER
8:30pm – 9pm
Yoga Nidra with Kerry
Qi Gong with Suzie
Kerry Meditation
One on One Sessions with the teacher of your choice:
Take this fantastic opportunity to deepen your personal practice, work on healing an injury or mastering some poses you are struggling with. Spend 30 mins one on one with either Suzie, Jane or Kerry to workshop whatever your heart desires. Suzie specialises in scoliosis and shoulder complaints, Kerry and Jane TBA. Please approach your teacher of choice to book your session at a mutually suitable time.
Description of Treatments:
Abhyangam (General therapy): The person undergoing the therapy is seated on the Droni (a wooden bed specially made for the therapy). Two masseurs stand on either side of the person, applying herbal oil on the head and massaging gently. The therapy is continued on the neck, ears, shoulders, chest and back. The person then turns on their back and the therapy is continued from shoulder to toe. During the course of the therapy the person lies on his right side, left side, stomach, and again on his back, and finally in the sitting position. General therapy (Abhyangam) has been found very effective for improving eyesight, longevity, sound sleep, rheumatism, vitality and creates glowing skin. These therapies are also a preventive medicine, in short it rejuvenates the body and maintains the physique.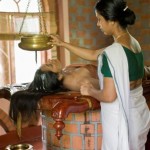 Dhara: The patient lies on a wooden bed in a comfortable position. A specially designed apparatus is filled with the medicated oil and placed at a specific height. The masseur then swings the apparatus back and forth so that the oil flows continuously and gently across the forehead. The head is then dried with a towel and again oil is applied to the head. This treatment can also be done for a specific part or the whole body, depending on the ailment. It promotes rejuvenation and revitalization of the human mind and body, diminishing the effect of ageing. This is a special therapy for stress and strain.
Pizhichil: This is one of our special therapies to rejuvenate the whole body. The prescribed medicated oil is applied on the head and the entire body. In this treatment the patient lies on the Droni (a wooden bed specially designed for the purpose). Next a piece of linen dipped in warm medicated oil is squeezed on to the patient's body as the body is continuously massaged slowly with light pressure. This therapy protects you from illnesses and improves your immune system adding vitality and health to your life. It also aids in the healing of rheumatic diseases, blood pressure, pain in the joints and diabetes.
**The therapies mentioned in the Break-up of Packages are at the sole discretion of our Ayurvedic Physicians and can be changed according to the ailment of each & every client depending upon their nature & duration of ailment and their respective body constitution.
** Guests are welcome to take additional treatments at your own cost however it is first suggested to take the Ayurvedic Doctors recommendations.
** Herbal Prescriptions may be given, this is at no extra cost.
MEALS: On the first day of your arrival (either 31st of Jan or 1st of Feb) Lunch and Dinner is included in this package. On the last day Feb 9th Breakfast is included.
Package Tariff (USD)
$2290AUD Twin Share or $2490 Single
What's included
8 nights accommodation in an Air-conditioned Deluxe Villa
Vegetarian Meals; breakfast, lunch and dinner.
Ayurvedic Doctor consultation
Personal Lifestyle and Fitness Evalutation
2 x dailiy Ayurvedic treatments with steam bath
Daily Yoga and Meditation
Lecture on Ayurveda
Lecture on Ayurvedic cooking
This retreat caters to beginners to advanced Yogis, for more information or to book contact info@kairaliyoga.com
Teachers
---
Come experience classes with some of Australia's best teachers. Each with there own unique style that will help you to unify body, mind and spirit. Suitable for beginners to advanced practitioners.
| | | |
| --- | --- | --- |
| | | |
| Jane Holland - Yoga | Kerry Lyons - Yoga Nidra | Suzie Rockett - Yogalates & Qigong |

---
Please contact our helpful Customer care.
Email: retreats@kairaliyoga.com
Mob: +91- 9555156156