Retreat Programs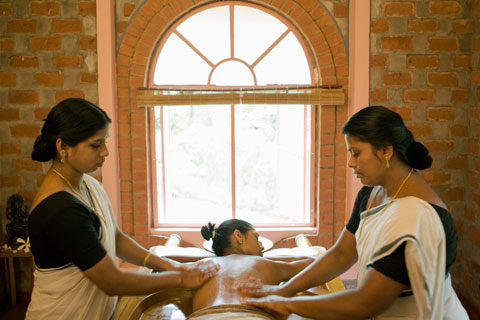 Whether you are a beginner in yoga or a regular practitioner of Yoga, the classes in our Kairali Yoga Retreat Program are judiciously designed in a way that it will benefit all. Each program is customized to meet your nutritional, physical, spiritual and personal goals.
We design our yoga retreat program with the intent of promoting self-transformation and rejuvenation for all. The Yoga Retreat Programs at Kairali are conducted by an established teacher and offer Yoga Teacher Training program, Intense Yoga practice, Individual Programs as well as weekend Yoga Workshops.
Our Retreat Programs offer something for everyone. It's not only about Yoga, our Retreat Programs offer you a Complete Wellness and Wellbeing scope. Here you get a chance to rejuvenate your body and mind through Ayurveda, Yoga And Meditation sessions.
We Conduct Retreat Programs throughout the year at our serene resorts in Kairali - The Ayurvedic Healing Village, Pallakad, Kerala, India.
Some of the most experienced yoga instructors and yoga guru from India and all over the world lead each of our yoga retreats.
Join Us And Allow yourself to feel Rejuvenated, Peaceful, Inspired and Refreshed.
Our Retreat Program Includes:
Yoga Sessions
Ayurvedic Massage Therapies
Meditation sessions
Spiritual Learning Sessions
Initial consultation with Ayurvedic doctor and Yoga therapist
Daily breakfast, lunch, and dinner
Accommodation