Kairali Retreats
Kairali Yoga's Ayurvedic Healing Village has always been much more than a health resort – it provides a transformative retreat experience based on total health orientation, where guests can join us for Yoga and Ayurveda retreats on an individual or group basis. We offer a variety of therapeutic and restorative programs all year round, paired with the Ayurvedic Healing Village's daily Yoga and Meditation classes.
Kairali Yoga facilitates a schedule of special events and retreats, in addition to our ongoing Ayurveda treatment programs. It is our privilege to welcome a selection of international Yoga Instructors and Teachers of other holistic disciplines to host retreats at our Ayurvedic center in Kerala. Please see our Retreat programs section for details of our 2013-2014 retreats schedule.
Ayurvedic Retreat Programs in India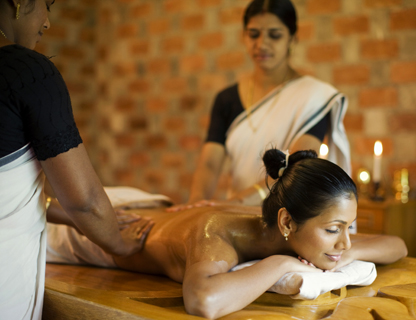 We believe that every retreat program should be as unique an experience as the individual in attendance. Our Ayurvedic consultations, held at the time of our guests' arrival, ensure they receive a unique experience of Yoga and Ayurveda, tailored to their individual needs.
The Ayurvedic Healing Village offers:
Yoga and Meditation Courses
Ayurvedic Panchakarma
Detox and Rejuvenation Treatments
Weight-loss Retreats
De-addiction and Rehabilitation from drugs, alcohol and tobacco
A Green Leaf Certified1 Ayurvedic Hospital , the Ayurvedic Healing Village also provides a selection of restorative programs:
Arthritis and Rheumatism, Diabetes, Sinusitis and Migraine, Anxiety and Stress-Relief, Hypertension and High Blood Pressure, Chronic Back Pain and Sciatica, Spondylitis and Slipped Disc, Beauty and Eye Care, Skin Diseases, Respiratory Diseases, Post Pregnancy Care.
Special Guest Teachers and Group Retreats
Yoga Retreats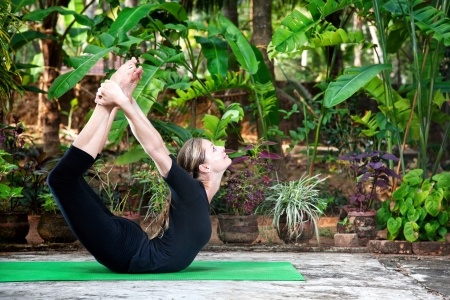 Kairali Yoga's ethos is based on a commitment to education - this is the reason we are building a global community of Yoga teachers to provide the very best range of lifestyle training for our guests. Our focus is on bringing numerous types of physical Yoga styles to our retreat centers, in the belief that everyone needs to find the style that works for them. We place an equal emphasis on the all-important theoretical side of Yoga, and facilitate educational retreats in Vedanta philosophy, Yoga Psychology, Yoga Therapy and Ayurveda.
Other Holistic Health Disciplines
Kairali Yoga welcomes holistic practices from outside the Indian tradition. Whether we call it Prana, Qi, Reiki, or simply 'life force' we refer to an energy that is always one and the same. We pride ourselves on our openness to healing methodologies from the ancient to the modern, and welcome all practices conducted with the intention of creating harmony between the body, mind and spirit. As representatives of the most ancient of health practices, Kairali believes there is no conflict in suggesting that ancient wisdom can blend successfully with modern therapeutic innovations.
Please see our Retreat programs section for a full list of world-class retreats and educational courses available from our Guest Teachers, in disciplines ranging from Yoga to Tai Chi and Reiki.
Host a Group Retreat with Kairali Yoga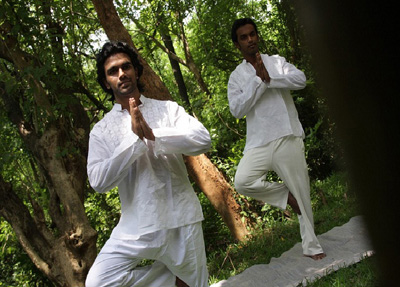 Kairali Yoga offers Yoga teachers the opportunity to host organized retreats and workshops at their award-winning retreat center in Kerala. A world-class healing environment providing the very best of modern holistic luxury and natural rejuvenation, the Ayurvedic Healing Village is recognised as one of the 'Top Ten Wellness Meccas in Asia' by the National Geographic Traveler magazine. Kairali Ayurvedic Group looks forward to an exciting future as it carves its place as an international centre for training in the healing arts.
For more information on hosting a Yoga Retreat with Kairali click here
1The highest level of Ayurvedic certification, awarded by the Government of Kerala.