Ashtanga Yoga & Ayurveda Retreat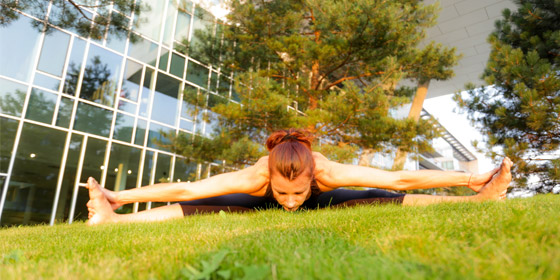 Yoga and Ayurveda is a perfect combination of purifying the body and mind to gain awareness of what is important in life and what is not. India is the land of yoga's origins, and the source of devotional or meditative inspiration. Practicing yoga in a place where generations of yogis have bent their bodies is like tapping into a deep spiritual spring.
In these two weeks we will focus on our inner peace and the ability to sense the own rhythm by getting awareness of the own pulse and biorhythms, moods, dreams and digestions while also allowing ourselves to listen to the shifting patterns of physiological rhythms, thoughts and emotions.
The special cuisine and the daily Ayurveda treatment fits the needs of each individual constitution type. With soothing massages and oil treatments, the senses can relax from everyday life. The daily Yoga and Meditation program, which is held in a harmonious and peaceful surrounding, invites you to pause, turn your attention inward and rediscover your authentic nature.
RETREAT PACKAGE for 28th January 2017 to 11th Febuary 2017
Price with Single Therapy
Price with Two Therapy
Single Occupancy
2,266 €
2,588 €
Dobule Occupancy
2,966 €
3,946 €
YOGA SCHEDULE
Beginners as well as advanced students are welcome to join the program. We practice every day. The weekly courses run from Saturday (Meet and Greet) until Friday evening.
The Daily Schedule
07.00 am to 08:00 am – Ashtanga Yoga
08:00 am to 09:00 am – Breakfast
09:30 am to 12:30 pm – Ayurvedic Massage & Treatment (1-hour slot per person)
12.30 pm to 1.30 pm - Lunch
1:30 pm to 5:30 pm – Free time/ Second Ayurvedic massage
6:00 pm to 7:00 pm – Meditation / Pranayama
7:00 pm to 8.00 pm – Dinner
*times are subject to change upon arrival*
Included in the package:
Consultations with the Ayurvedic Doctors
Ayurvedic Massage (As per package selected)
Luxury villa designed according Vastu (ancient Indian Feng Shui)
Vegetarian Ayurvedic food (3 meals per day)
Harmonious natural surroundings of ancient healing trees and herbs
Full use of resort facilities including swimming pool, gym, library, meditation hall.
Morning classes
The morning Ashtanga Yoga classes will be guided in a soft way. We will focus on the breath – we will move with the breath. Movement and breath is like a dance, a creative process, which gets us to the origin of our being where we find peace, freedom and silence with ourselves and all the creations surrounding us.
Afternoon classes
The afternoon lesson is split in two subject areas.
First area: We will focus onMeditation or sitting in silence. This practice of silence builds your ability for self-reflection to start noticing the thoughts, emotions and desires that come up without reacting to them. Three times a week we will have a guided meditation on the Heart Chakra, Solar plexus Chakra and Root Chakra.
Second area: Pranayama, as the formal practice of controlling the breath, which is the source of our vital life force. We will focus on learning pranayama exercises, breathing techniques and sequences.
1 Treatment package includes:
Daily one ayurvedic massage, abhyangam
2 Treatment package includes:
One Abhyangam and one additional ayurvedic treatment according to doctor's prescription
(i.e. shirodhara, pizhichil, herbal scrub, etc)
About Manuela (Yoga Teacher)
---

Manuela is a Registered Yoga Teacher (RYT) and practices Ashtanga Yoga for more than 18 years. She is teaching Ashtanga Yoga in Austria/Vienna and is organizing Yoga retreats abroad for years. Manuela is also working as a Cranial Sacral Therapist.
For further information please contact
Email: info@kairali.com
Mobile: +91-9999231117, +91-8826021113
Enquire Now